Last Friday at the RNA show grounds in Brisbane saw the 2015 award ceremony for the Royal  Queensland Fine Foods Branded Beef awards.

CAAB once again outshined its rivals taking out the gold in the grain fed class with a score of 88. This high score also resulted in CAAB taking out Champion MSA graded Branded Beef of show.

With entries up by 20% overall this year, the competition was fierce across all categories. Angus Pure finished just out of medal contention in the grassfed class finishing a very respectable fourth placing.

Chief judge, Elaine Millar said the judging panels were overwhelmed by the taste and visual quality of this year's entries.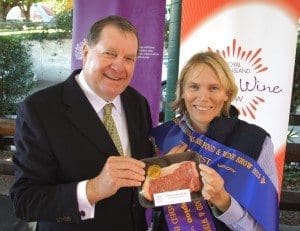 Last week saw over close to 90,000 people descend upon the Rockhampton showgrounds for the triennial Beef Australia event. The event focused on emerging markets for Australian beef, as well as strengthening current relationships.

We saw beef judging of over 4000 head of cattle, 600 trade sites and over 1000 international guests. There were also seminars running all week long with topics ranging from animal handling through to the importance of quality assurance programs for beef.

The event proved to be an outstanding showpiece of Australia's beef industry and the positive feeling amongst the industry about the future of Australian beef, both in domestic and international markets.

Over the course of the week there were several international chefs who cooked Australian beef.

Certified Angus Group was lucky enough to secure Alvin Leung and Matt Golinski as chefs for our CAAB sponsored meal held on Friday 8th at the International Restaurant on the Beef Australia grounds. The chefs were given the task of creating first class meals using secondary cuts of beef, which they achieved with ease.

The meals served were of outstanding quality and on all accounts enjoyed immensely by the more than  100 guests who attended.

At seminars held throughout the week the general feeling was one of positivity for the future of the Australian beef industry. One of the common messages repeated throughout the seminar programs during the week was that the future lies within customer focused, quality assured and independently audited branded beef programs.

Overall a great time was had by all the event and we look forward to the next Beef Australia in 2018.

This year from the 4th to the 9th of May, Rockhampton will once again celebrate Beef Australia.

Part of the exciting program will this year include the Celebrity Chef program featuring a number of cooking demonstrations from leading chefs from around Australia and the world. A team of nine internationally recognised chefs will take turns in setting the menu and providing service each day at the Beef Australia International Restaurant in the People's Bar of the Rockhampton Showground.

This year CAAB has been teamed with Alvin Leung and Matt Golinski to create a culinary delight for all those attending the Beef Australia event. Both chefs come with a highly respected repertoire of experience in both international and national restaurants.

 

Alvin Leung

Born in London and raised in Toronto, Canada, innovative chef Alvin Leung has put his stamp on the culinary world with his three Michelin star restaurant, Bo Innovation, based in Hong Kong. Its 'X-Treme Chinese' cuisine continues to wow both diners and critics, modernising traditional ingredients and recipes with modern techniques and flavours.

The self-proclaimed 'Demon Chef' has no formal kitchen training and is only the second self-taught chef to ever receive three Michelin stars. The other being Heston Blumenthal.

Contrary to his 'rock and roll' image, Leung's professional training is as an engineer. In addition to Bo Innovation, Leung has helped launch other restaurants in London, Shanghai and Hong Kong.

His newest eatery will open in Toronto, Canada, in the spring of 2015. The star chefs' popularity has made him a sought after guest at food events and culinary conferences across the world and on TV programs. He has hosted The Maverick Chef, Wok Stars and is a judge on MasterChef Canada.

Matt Golinski

Matt Golinski is a highly regarded Australian chef with a passion for simple, produce driven cuisine based on seasonal, fresh local ingredients.

Matt is well known as one of the original team members of the popular, long running 'Ready Steady Cook' television series and was a founding partner of the successful Rolling Dolmade catering company on Queensland's Sunshine Coast.

After travelling around the world in 1997 to further hone his cooking skills, Matt consolidated his formidable reputation as Executive Chef at the prestigious Ricky Ricardo's restaurant in Noosa Heads.

On Friday the 10th and Saturday the 11th of April, Melbourne will be treated to a culinary delight as CAAB and Australia's self-proclaimed 'meat-loving hardcore carnivore', Burger Mary (aka Jess Pryles) team up, alongside more of Australia's finest producers, to create a meat lovers' degustation.

Burger Mary, who has named herself after her fondness of Burgers and Bloody Marys, is an Australian, and honorary Texan, who is committed to promoting the carnivorous gospel worldwide.

The Carnivore's Ball, an internationally renowned event, now in its third year in Melbourne has had huge success in the past two years. Bringing in the finest local producers and chef talent to create a Texan style celebration of all things meat. This year the Texan theme has been highlighted with an Austin Pitmaster, Evan LeRoy, being brought out for the event. Other big names include Peter Bouchier butchers, George Tomlin (The Town Mouse), Flinders Island Lamb, Bluebonnet BBQ, our own Certified Australian Angus Beef and an incredible sweet finish from Gelato Messina.

The Ball will be held at the Ormond Hall, Melbourne on both Friday the 10th and Saturday the 11th of April. Tickets can be purchased from the link below:

http://www.burgermary.com/2015/02/carnivores-ball-melbourne-2015/

Below is the delicious menu for the evening. An event not to be missed.
Last Friday night, The Land hosted the 2014 Feedback Trial Awards Dinner at the Mercure in Wagga Wagga, NSW. Running since 2010, the objective of this trial is to evaluate the performance of teams of five animals in achieving the commercial requirements of Teys Australia's Jindalee Feedlot grain fed beef program (targeting their branded programs, including Certified Australian Angus Beef).

Entrants are evaluated on their ability to supply steers that meet feedlot entry specifications, perform well in the feedlot and produce high yielding, good eating quality carcases that meet the market specifications.

Points are awarded at each stage, including induction, feedlot performance, carcase specifications, to give an overall point score out of a possible maximum 1000 points. This year, there were 95 teams of five steers, all fed for 100 days.

First time entrants James and Sally Morse, "Wongalee", Molong NSW won both the reserve and grand champion awards for 2015. The Morses' won the grand champion pen of five steers with a pen of Angus cross.

The champion team recorded 821 points out of 1000, placing first in both the feedlot entry and feedlot performance, and achieved a team profit $624.69 above the trial average.

A second team of steers entered by the Morses', was the reserve champion pen of five on 795.5 points, with a team profit of $404.06 above average. This reserve champion team was also awarded full points for feedlot entry, and sixth place in the carcase judging.

The winner of the CAAB Champion Pen with a score of 782.5 out of 1000, was awarded to Feedback Trial stalwarts, Frank and Andis Sorraghan, with Toonga Pastoral Company of Tarcutta, NSW in second place with 773 points.

Certified Angus Group is a proud sponsor of this event since its 2010 inception, and would like to congratulate everyone that took part this year.